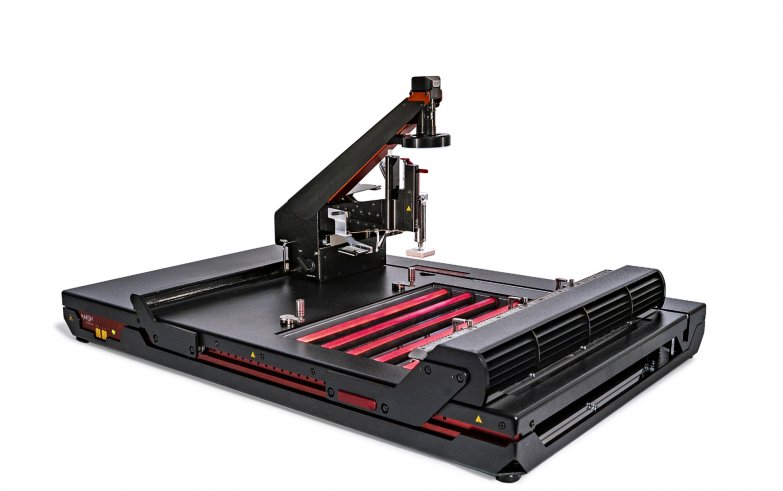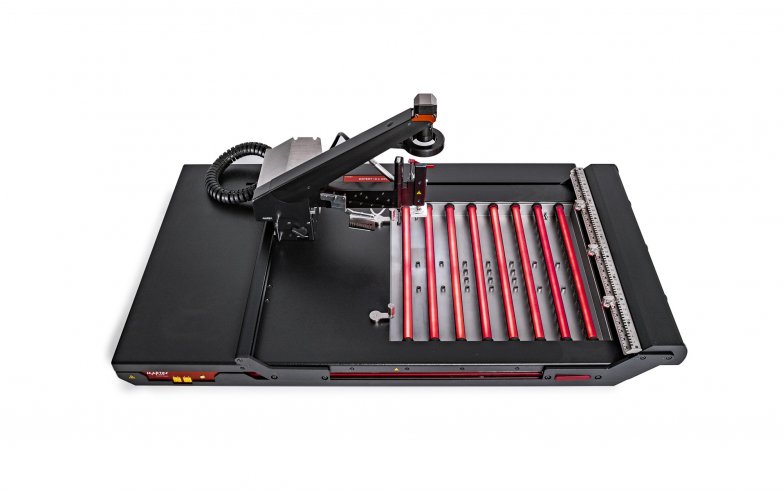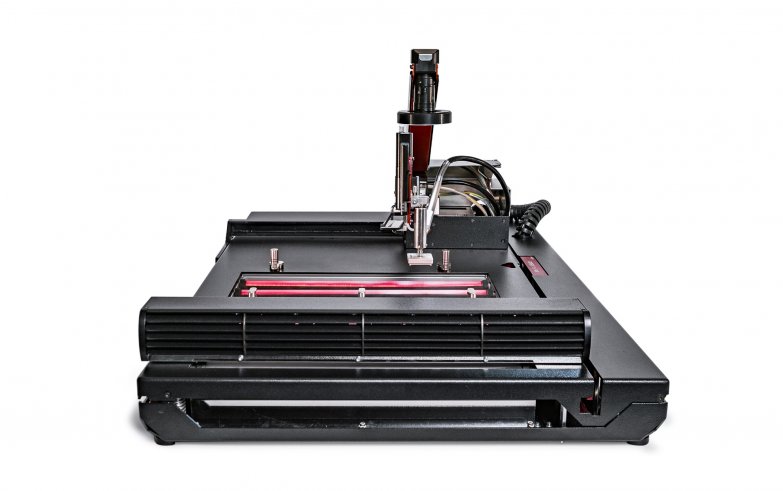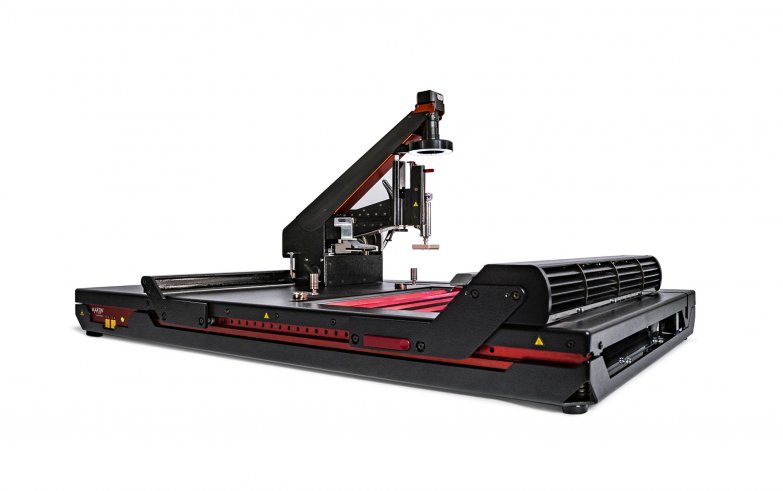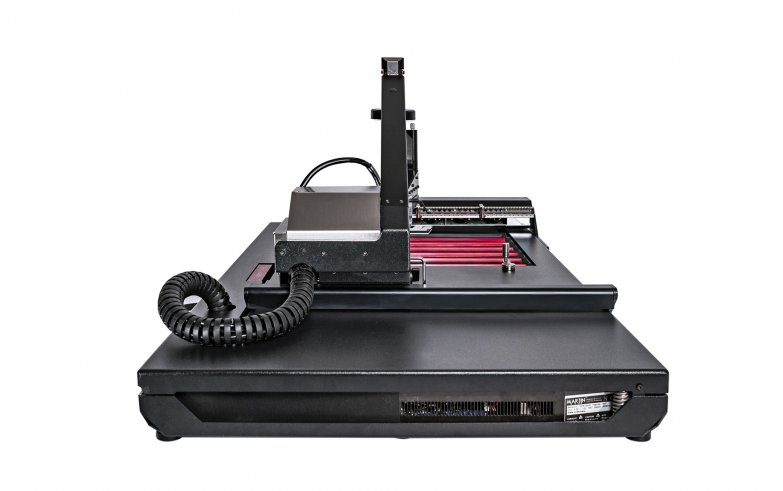 EXPE
R

T 10.6 HXV

5,300 W Rework station

Semiautomatic hybrid Rework station for repairing large circuit boards, such as server- or mainboards.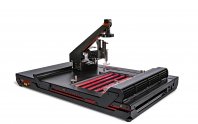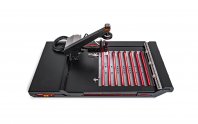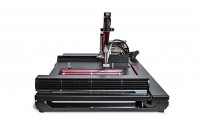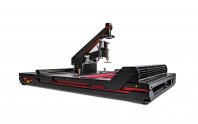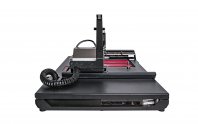 Top Features
Camera-supported rework
Flexibility
Various PCB sizes and shapes as well as components available up to 75 x 75 mm2
Under-heating system
Large PCBs 480 x 480 mm2
Performance
Uniform heat distribution through convection and hybrid technology
Multifunctionality
One device for all processes, including desoldering, pad cleaning, automatic positioning and soldering
Process control
Automatic profiler for under- and top-heating systems
Software
Simple, intuitive, tablet-compatible
EXPERT 10.6 HXV
Rework Station with 5,300 W hybrid under-heating system. The heating area of 450 x 420 mm2 is adjustable to PCB size. Automated SMD placement process by Auto Vision Placer (AVP) incl. EASYSOLDER 07 software package and DBL 06 control unit with six high resolution sensors inputs for thermocouples (Type K).
This system is particularly suitable for large size PCBs like PCs, Laptops and Server Boards with small up to very big components.
Product variations in the shop
DB00.1066

EXPERT 10.6 HXV

Hybrid rework station 5300W, autom. placement

Article Nr.: DB00.1066
Standard equipment
Tool set for dispensing, placing, residual solder removal and soldering with magazine
Set of placement nozzles XL-type (BGA/CSP) 5 mm, 8 mm, 15 mm with O-Ring
Set of solder nozzles (BGA) 15 mm, 27 mm, 35 mm, 40 mm
Two camera lenses (BGA und CSP)
Two thermocouple sensors (type K)
Four PCB magnet holder 40,5 mm (standard)
Three PCB clips to install at hand rest
Foot switch
Manual
Intuitive software EASYSOLDER 07 with touch integration
Components
LED rework
Daughter boards
Interposer boards
Sub assemblies
RF frames
RF shields
Rework on flex
Small passives down to 0402
SON
PGA
LGA
QFP
PoP
DFN
QFN
µBGA/CSP
BGA up to 67x67mm
Sockets
Connectors
CPU
Underfiller or coated components
Film capacitor
Processes
Dipping
Paste printing
Solder removal
Soldering
Desoldering
Reballing
Dispensing
Multichip soldering
Videos
The semi-automatic Rework station with hot gas facilitates the reliable and precise rework of BGA, CSP, and QFN components, connectors, sockets, micro SMDs and more.
Watch video
The EXPERT 10.6 HV and HXV are perfect solutions for desoldering multiple components in one step. With this opportunity a tremendous amount of time can be saved.
Watch video
The Printer Tool on the Expert 10.6 rework system allows solder paste or flux to be printed directly onto small components such as quad flat no-leads, enabling immediate placement onto a printed circuit board. Printing ...
Watch video
Technical details
Power consumption:
5,500 VA
Power solder pen:
300 W, 35 l/min
Power under-heating system:
1200 - 5000 W
8 x IR-lamps
Size under-heating system:
450 x 420 mm2
Max. PCB size:
480 x 480 mm2
Resolution motion system:
0,001 mm
Placement accuracy:
± 0,015 mm
(Flip Chip)*
± 0,030 mm
(CSP)
± 0,040 mm
(BGA)
± 0,070 mm
(Maxi BGA)*
± 0,115mm
(Maxi BGA XL)*
High resolution CMOS-camera:
5 Mio. Pixel USB2
Size of components:

Lens
X
Y
Flip Chip*
min.

max.

0.5 mm

15 mm

x

x

0.5 mm

15 mm

CSP
min.

max.

1 mm

25 mm

x

x

1 mm

25 mm

BGA
min.

max.

2 mm

40 mm

x

x

2 mm

40 mm

Maxi BGA*
min.

max.

3 mm

60 mm

x

x

3 mm

80 mm

Maxi BGA XL*
min.

max.

50 mm

95 mm

x

x

70 mm

95 mm

Mains:
1Phase, 230VAC, fused 25A
Connector Type CEE 32A (3 phase)
Pressurized air:
5-8 bar, 100 l/min
clean, dry air
Dimensions:
1030 x 630 mm2
Weight:
96 kg
* Optional extras
Optional extras
SF66.0501

Tool Slider 40mm

for AVP 4.1XL

Article Nr.: SF66.0501

SF64.0525

Dip Tool 0.08mm with squeegee

for tool shuttle 32 / 40mm

Article Nr.: SF64.0525

SF64.0526

Dip Tool 0.15mm with squeegee

for tool shuttle 32 / 40mm

Article Nr.: SF64.0526

SF64.0527

Dip Tool 0.22mm with squeegee

for tool slider 32 / 40mm

Article Nr.: SF64.0527

SF66.0526

Dip Tool 0.15mm with squeegee

for tool shuttle 40mm

Article Nr.: SF66.0526